What's New
Now Out: Essay 1700 on 漠 (Desert) and 5 New-Monics
Jan 16, 2016
The 194th essay has posted! Essay 1700 on 漠 (desert; vague) is now available for purchase. Here's a preview: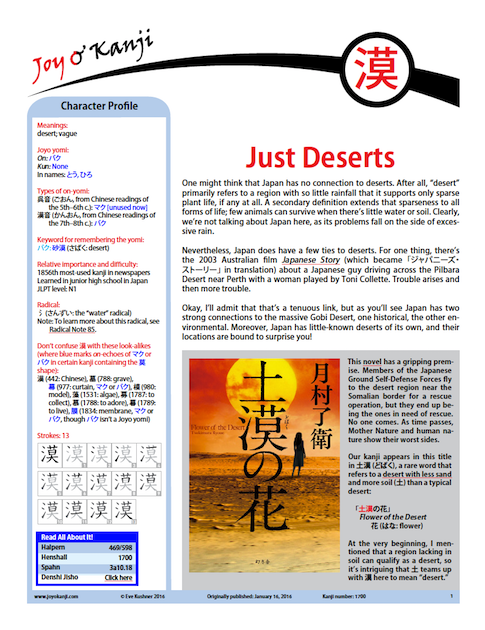 One-third of Earth's surface is desert, and 1,900 square meters of the planet turn to desert every second. Learn about the desert that may one day be your home! Also find out how, contrary to what one would expect, rainy Japan has connections to deserts. It has two ties to the massive Gobi Desert, one historical, the other environmental. And Japan has little-known deserts of its own!
Using the accompanying Phrase Maze game on the Character Home Page, you can practice the vocabulary in the essay after reading it.
Also, Ulrike has produced a batch of new-monics (which are free!):
速 (534: quick)
側 (535: side)
帯 (539: belt)
達 (541: to reach)
低 (548: low)