What's New
Now Out: Essay 1681 on 濃 (concentrated) and 6 New-Monics
May 30, 2015
The 169th essay has posted! Essay 1681 on 濃 (concentrated; dense; thick (consistency); dark, deep (color)) is now available for purchase. Here's a preview: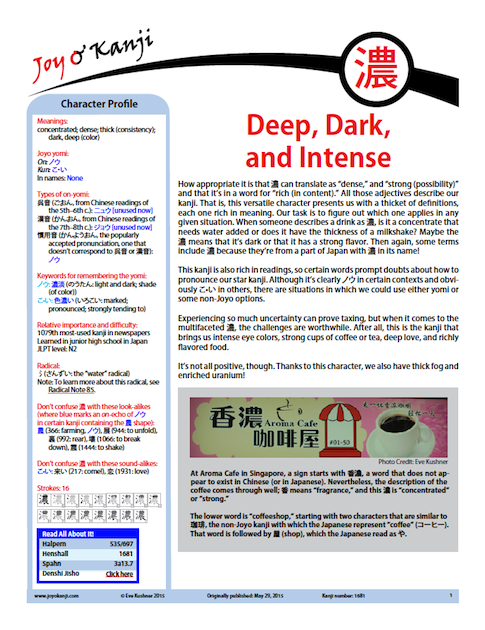 This kanji brings us intense eye colors, strong cups of coffee, deep love, and flavorful food. Learn to talk about everything from the salt levels in the Dead Sea to hot-pink iPhones, dark soy sauce, and juice sold as a concentrate. Find out how to refer to the pronounced scars of World War II and to unusually well-defined Japanese faces. Also learn to say "chock-full of blueberry flavor."
Using the accompanying Phrase Maze game on the Character Home Page, you can practice the vocabulary in the essay after reading it.
Also, Ulrike has produced a new batch of new-monics (which are free!):
少 (143: few)
容 (802: to contain)
異 (807: different)
貴 (834: noble)
砂 (869: sand)
従 (891: to follow)