What's New
Now Out: Essay 1675 on 尿 (Urine), 7 Games, and 5 New-Monics
Jan 29, 2016
The 196th essay has posted! Essay 1675 on 尿 (urine) is now available for purchase. Here's a preview: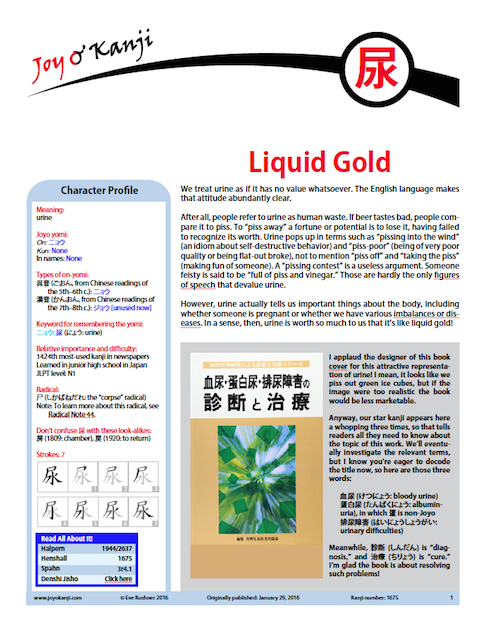 Find out why a novel and a memoir contain 尿 in their titles. Discover how Edo-era people repurposed excrement for a profit. Learn to say that you want to urinate, and find out how to discuss problems such as frequent urination. Also see why the Japanese are extra-aware of uric acid levels and albumin and why the Japanese word for "albumin" contains characters for "egg white."
Using the accompanying Phrase Maze game on the Character Home Page, you can practice the vocabulary in the essay after reading it.
Also, games for the final set of old essays have posted:
essay 1821 on 墨 (black inkstick; black ink; Mexico)
essay 1823 on 没 (sinking; immersion; disappearing; dying; lack)
essay 1837 on 慢 (arrogant; proud; boastful; sluggish; lazy)
essay 1844 on 夢 (dream; vision)
essay 1848 on 滅 (to destroy, annihilate; cease to exist; ruin)
essay 1889 on 頼 (reliance; request; trust)
essay 1920 on 戻 (to return; revert; resume; restore; go backward)
You can find details about the changes at the links.
Finally, Ulrike has produced a batch of new-monics (which are free!):
航 (479: to navigate)
差 (482: difference)
殺 (488: to kill)
席 (520: seat)
想 (532: to imagine)