What's New
Now Out: Essay 1656 on 稲 (rice plant), 1 Revision, and 5 New-Monics
Apr 26, 2019
The 332nd essay has posted! Essay 1656 on 稲 (rice plant; lightning) is now available for purchase. Here's a preview: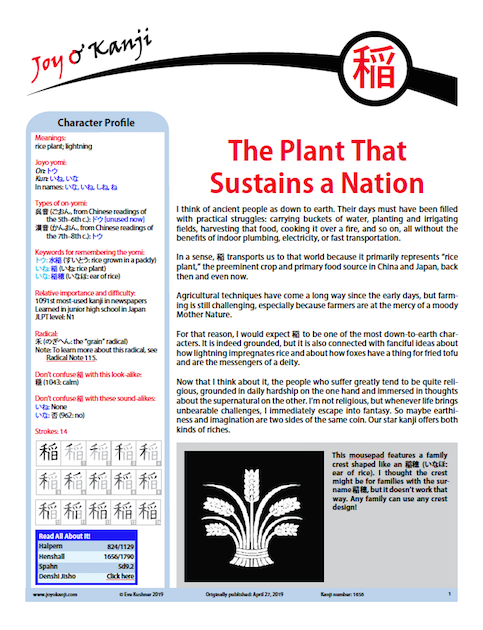 This kanji has quite a split personality. Growing rice (稲) is a deeply down-to-earth pursuit. But 稲 is also linked to fanciful notions that lightning impregnates rice and that tofu-loving foxes are messengers for the god Inari (稲荷). He is reputed to help with crops, health, sex, and money, so Inari shrines abound, steeped in fox statues and other symbols—all a far cry from farmers' earthy concerns.
Using the accompanying game on the Character Home Page, you can practice the vocabulary in the essay after reading it.
Also, a revision of the following essay posted:
essay 2079 on 瞳 (pupil (of eye); eye; iris (of eye))
Details about the changes are at the link. If you've bought this essay before or if you have a subscription, you can download the new version for free.
Finally, Ulrike created the following new-monics (which are free!):
因 (614: cause)
恩 (624: gratitude)
姻 (1012: marriage)
款 (1108: stipulation)
咽 (1960: throat)