What's New
Now Out: Essay 1609 on 坪 (3.3 square meters), 2 Revisions, and 5 New-Monics
Dec 9, 2022
The 469th essay has posted. Essay 1609 on 坪 (3.3 square meters) is now available for purchase. Here's a preview: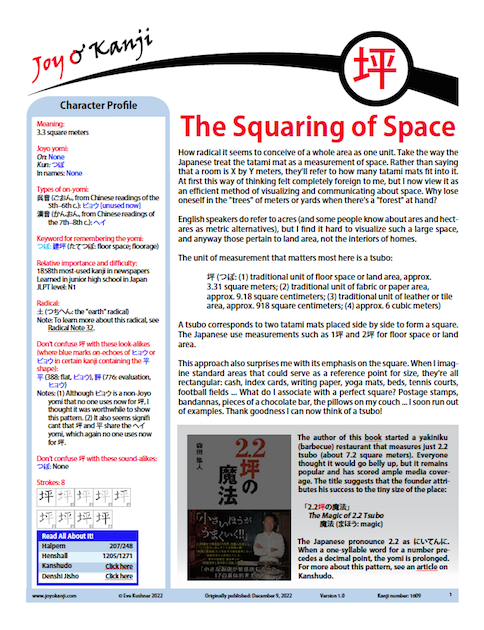 Discover an efficient way to convey the size of living spaces and land. Find out what these statements mean: "This house has 40 tsubo of floor space" or "The family owned a 60,000-tsubo plot of land." Learn to say, "Land in this area is valued at 1,138,000 yen per tsubo" and "I asked what the land price was per tsubo." Also find out about tucked-away gardens in Kyoto courtyards.
Also, revisions of these essays have posted:
If you've bought them before or if you have a subscription, you can download new versions for free.
Finally, Ulrike has created these new-monics, which are free:
仲 (934: intermediary)
著 (937: to author)
賃 (942: wages)
展 (944: exhibition)
派 (955: faction)
She has now brought the total to 2,000 mnemonics! That's quite an achievement! Only 136 to go!