What's New
Now Out: Essay 1496 on 挨 (to Come Very Close), Sept. Newsletter, and 5 New-Monics
Sep 30, 2016
The 228th essay has posted! Essay 1496 on 挨 (to come very close) is now available for purchase. Here's a preview: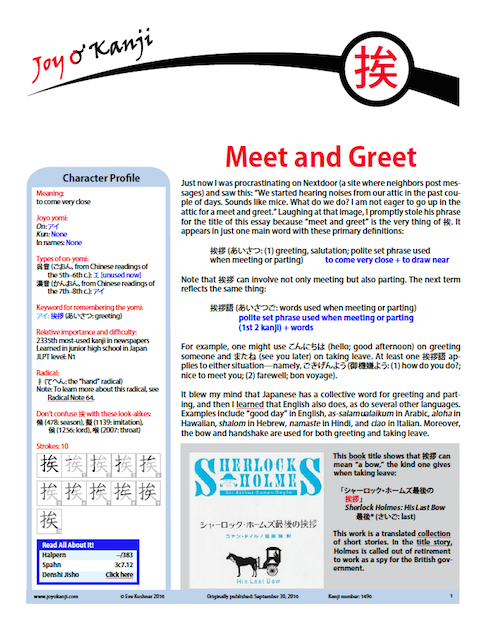 Manners are paramount in Japan, and 挨 has to do with the right words said at the right time (though it originally represented rude behavior!). See how 挨 relates to greeting and parting from others, apologies, expressions of sympathy, speeches, the yakuza, visiting relatives, Zen dialogues, writing letters, and more. Also learn why you might give toilet paper as a gift!
Using the accompanying Phrase Maze game on the Character Home Page, you can practice the vocabulary in the essay after reading it.
Also, the September 2016 newsletter is now out, including compelling images from recent essays, a special offer, new books on Kanji Kaimono, mnemonics, and much more.
Finally, Ulrike has produced a batch of new-monics (which are free!):
寒 (245: cold)
指 (289: finger)
旨 (1312: gist)
脂 (1319: fat)
詣 (1996: to visit a holy place)