What's New
Now Out: Essay 1495 on 践 (to Carry Out) and 5 New-Monics
Apr 22, 2016
The 207th essay has posted! Essay 1495 on 践 (to carry out) is now available for purchase. Here's a preview: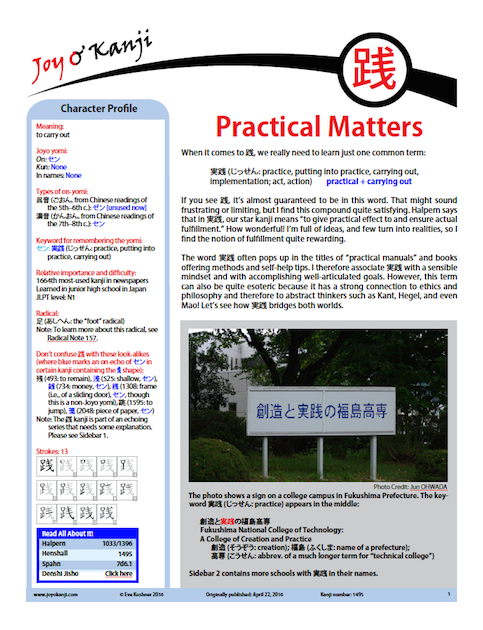 This kanji is for people who like to take action! Our character appears in the titles of "practical manuals" and books that offer "practical training." By studying 践, you'll learn to say, "Actions speak louder than words," "He used Western knowledge in a Japanese way," "Anyone can put it into practice," "It's important to combine theory with practice," and "He carried out his duty."
Using the accompanying Phrase Maze game on the Character Home Page, you can practice the vocabulary in the essay after reading it.
Also, Ulrike has produced a batch of new-monics (which are free!):
名 (71: name)
顔 (93: face)
悦 (1020: delight)
塊 (1065: lump)
銘 (1847: inscription)