What's New
Now Out: Essay 1483 on 隻 (one of a pair), 4 Revisions, and 4 New-Monics
Jan 13, 2023
The 472nd essay has posted. Essay 1483 on 隻 (one of a pair; counter for ships) is now available for purchase. Here's a preview: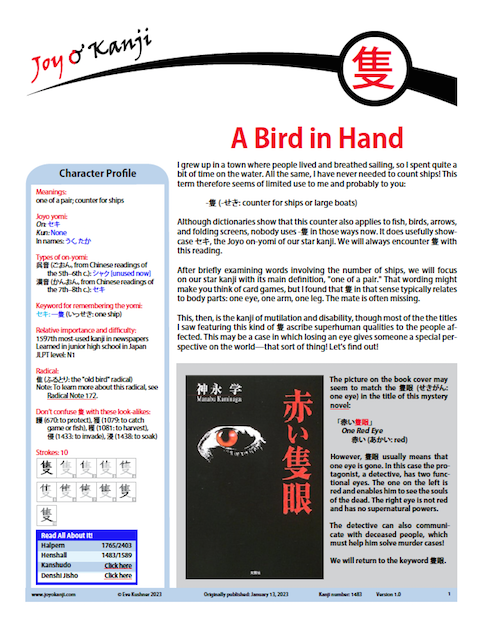 Learn to talk about missing eyes and limbs, as in "Shigeru Mizuki was a manga artist with one arm." By extension, the "one of a pair" sense of 隻 enables you to say, "There's no trace of the enemy" and "He never misses any of his teacher's words." Also learn to discuss ships with 隻, saying, "Don't risk putting all the cargo in one ship" and "Some ships are sailing on the sea."
In addition, four essay revisions have posted:
If you have a subscription or if you've bought these essays before, you can download new versions for free.
Finally, Ulrike has created these new-monics, which are free:
唱 (508: to sing)
勢 (518: power (esp. with movement))
卒 (537: to graduate)
底 (549: bottom)