What's New
Now Out: Essay 1474 on 牲 (sacrifice), a Revision, and 5 New-Monics
Feb 19, 2021
The 401st essay has posted! Essay 1474 on 牲 (sacrifice; victim) is now available for purchase. Here's a preview: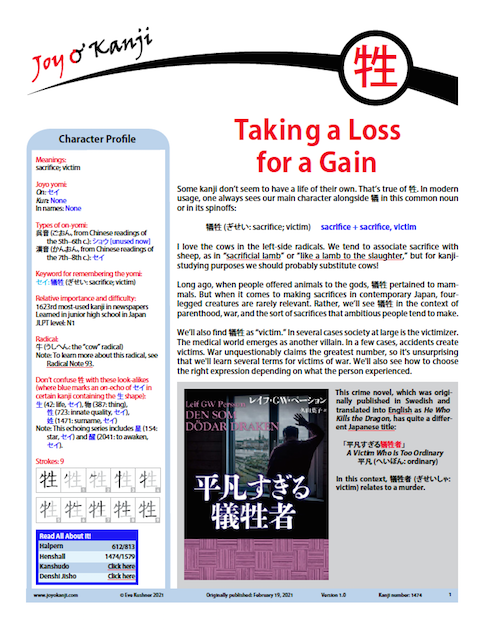 Parents often make sacrifices to give children a good education. Find out how to say that, and then discover how maternal self-sacrifice may be harmful. See which term for "war victim" is right, depending on what the person experienced. Learn to say, "I must help her at any cost" and "She worked at the expense of her health," as well as jargon for being a sacrificial lamb in the consumer world.
A revision to the following essay has also posted:
Details about the changes are at the link. If you've bought this essay before or if you have a subscription, you can download the new version for free.
Finally, Ulrike created the following new-monics:
克 (1272: to overcome)
酷 (1273: severe)
旋 (1494: to turn around)
敷 (1756: to spread)
伏 (1763: to lower oneself)