What's New
Now Out: Essay 1455 on 粋 (cool) and 5 New-Monics
Oct 26, 2018
The 313th essay has posted! Essay 1455 on 粋 (cool, chic; refined; essence; pure) is now available for purchase. Here's a preview: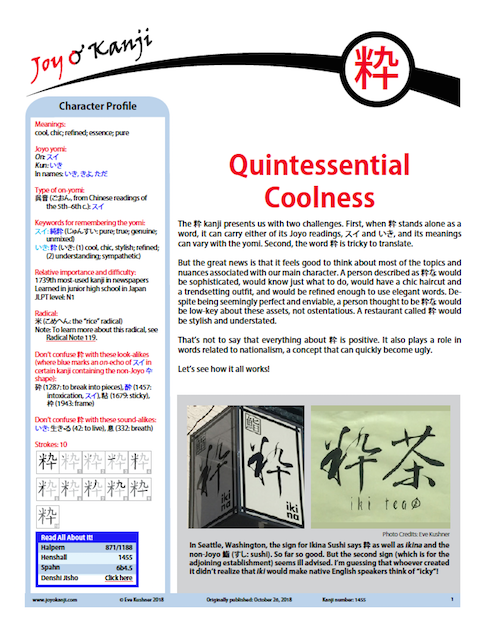 By studying 粋, you might learn how to be cool, and you'll definitely learn to comment on people's failed attempts at stylishness! You'll immerse yourself in the spirit of Edo culture and see how it permeates the language today. Plus, you'll discover words for "purity," "nationalism," and "the best of technology," also finding out how to say "He is a Parisian through and through."
Using the accompanying game on the Character Home Page, you can practice the vocabulary in the essay after reading it.
Also, Ulrike created the following new-monics (which are free!):
宗 (889: religious sect)
崇 (1465: reverence)
須 (2038: indispensable)
箋 (2048: piece of paper)
踪 (2055: traces)