What's New
Now Out: Essay 1448 on 迅 (quick), 3 Revisions, and 5 New-Monics
Apr 22, 2022
The 439th essay has posted! Essay 1448 on 迅 (quick) is now available for purchase. Here's a preview: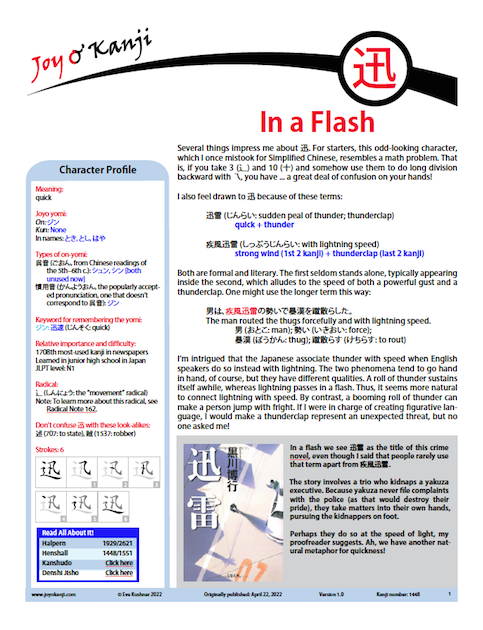 See how 迅 connects to thunder, lions, and the military, as well as swift action. Learn to say, "He promptly coped with the situation," "The office staff worked quickly and efficiently to resolve the problem," "If a serious crisis arose, the government would have to act swiftly," and "The invading army, initially considered to have irresistible force, turned out to be unexpectedly weak."
Also, revisions of the following essays have posted:
If you've bought these essays before or if you have a subscription, you can download the new versions for free.
Finally, Ulrike created the following new-monics:
企 (1120: plan)

岐 (1121: divergence)

棄 (1131: to throw away)

欺 (1136: to deceive)

恭 (1168: respectful)