What's New
Now Out: Essay 1429 on 嘱 (to entrust), Radical Note 84, 1 Revision, and 7 New-Monics
Aug 19, 2022
The 454th essay has posted. Essay 1429 on 嘱 (to entrust) is now available for purchase. Here's a preview: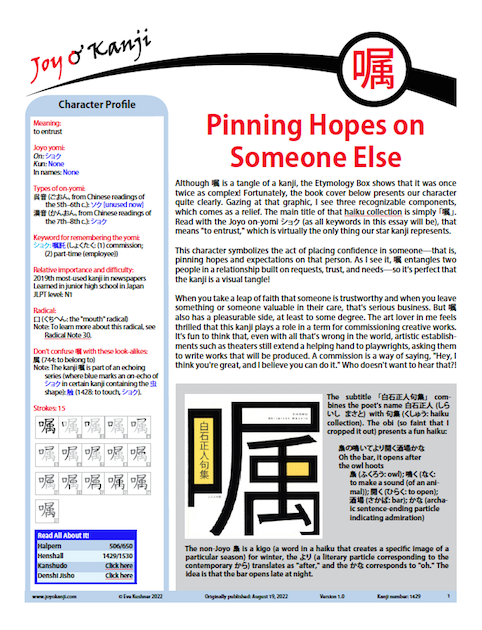 Learn how this tangle of a kanji entangles people in relationships. Also find out how to say this: "The world had its eyes on Japan," "We place a great deal of hope for the future in these young men," "People expect that he will become a teacher," "I entrusted him with collecting data," "Even after retiring, I continue to work part-time," and "He was regarded as a very promising writer."
Also, Radical Note 84 on 气 ("steam") has posted. See how the "steam" radical, which serves as the on-duty radical only in 気 (11: spirit), gives 汽 (94: steam) a shocking appearance. This resource is free.
In addition, a revision of essay 1555 on 託 (to entrust with) has become available. If you have bought this essay before or if you have a subscription, you can download the new version for free.
Finally, Ulrike has created these new-monics (which means that the first 500 mnemonics are now complete!):
塩 (428: salt)
康 (480: health)
昨 (486: yesterday)
刷 (487: printing)
散 (492: to scatter)
辞 (500: to resign)
韻 (1015: rhyme)