What's New
Now Out: Essay 1414 on 鐘 (Bell), 1 Essay Revision, and 6 New-Monics
Apr 7, 2017
The 251st essay has posted! Essay 1414 on 鐘 (bell) is now available for purchase. Here's a preview: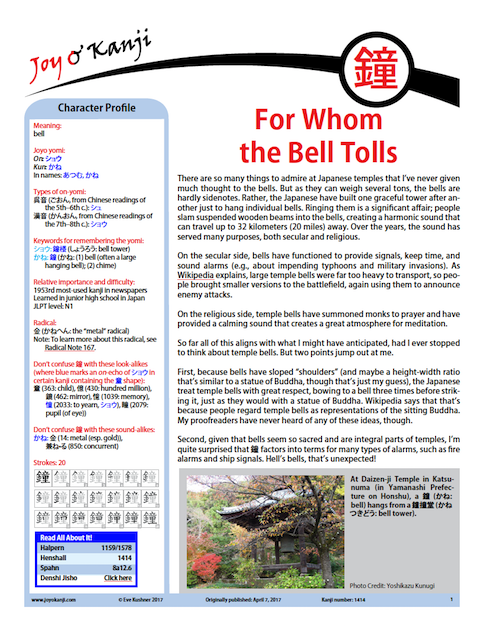 Do you know the difference between a 鐘 and a 鈴? Hint: Each bell has a different religious affiliation! Do you know which parts of a bell are associated with dragons, colts, and breasts? Do you know how to eat a bell? Do you know why they ring temple bells 108 times? Do you know what it means to strike an alarm bell figuratively? Read the essay, and you'll soon know all of this!
Using the accompanying game on the Character Home Page, you can practice the vocabulary in the essay after reading it.
Also, one essay revision has posted:
essay 1627 on 迭 (to replace someone)
You'll find details at the link. If you've bought the essay before or if you have a subscription, you can download a revision for free.
Finally, Ulrike has produced a batch of new-monics (which are free!):
市 (130: city)
姉 (498: elder sister)
肥 (772: fat)
臓 (924: internal organ)
肺 (958: lung)
柿 (1946: persimmon)