What's New
Now Out: Essay 1400 on 紹 (introduction) and 5 New-Monics
Feb 23, 2018
The 286th essay has posted! Essay 1400 on 紹 (introduction) is now available for purchase. Here's a preview: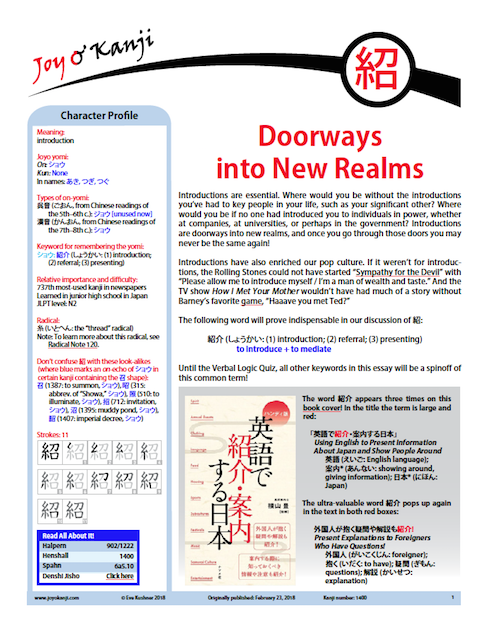 Find out about "stealth marketing" and legitimate articles versus advertorial. See why one term for "employment agency" sounds offensive to people. Learn about a man who brought an unlikely sport to Japan. Discover what happens if you see a doctor at a large Japanese hospital with no letter of introduction. Along the way learn a bit about hairy litchi and the origins of takoyaki!
Using the accompanying game on the Character Home Page, you can practice the vocabulary in the essay after reading it.
Also, Ulrike has produced the following new-monics (which are free!):
声 (153: voice)
切 (156: to cut)
船 (158: ship)
弟 (177: younger brother)
窃 (1488: to steal)