What's New
Now Out: Essay 1382 on 緒 (beginning), 1 Revision, and 5 New-Monics
Apr 6, 2019
The 330th essay has posted! Essay 1382 on 緒 (beginning; cord; emotional state) is now available for purchase. Here's a preview: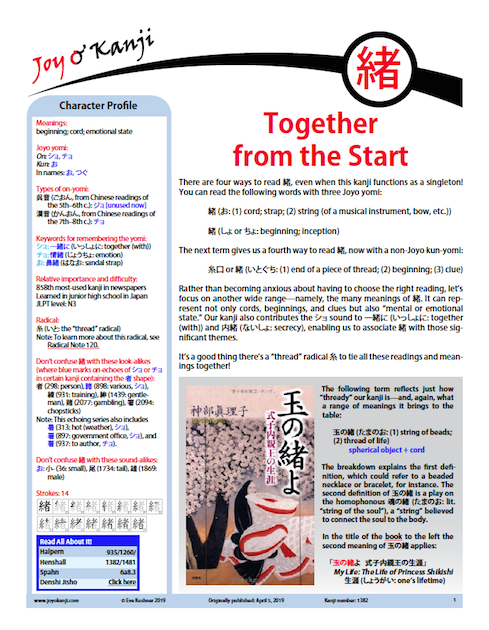 Though 緒 looks simple, its yomi and meanings constantly shift in fascinating ways. It means what you see above, plus "clue," and is associated with "together" and "secret." Learn to say all this: "Just between you and me, he is a liar." "To know someone, travel with him for a week." "Space science is still in its infancy." "She told me in confidence." "I don't mix business with pleasure."
Using the accompanying game on the Character Home Page, you can practice the vocabulary in the essay after reading it.
Also, a revision of the following essay posted:
essay 2133 on 侶 (companion)
Details about the changes are at the link. If you've bought this essay before or if you have a subscription, you can download the new version for free.
Finally, Ulrike created the following new-monics (which are free!):
疑 (835: doubt)
怪 (1061: mysterious)
擬 (1139: imitation)
凝 (1175: to congeal)
簿 (1790: record book)