What's New
Now Out: Essay 1290 on 彩 (Color) and 5 New-Monics
Jun 14, 2019
The 338th essay has posted! Essay 1290 on 彩 (color; to paint) is now available for purchase. Here's a preview: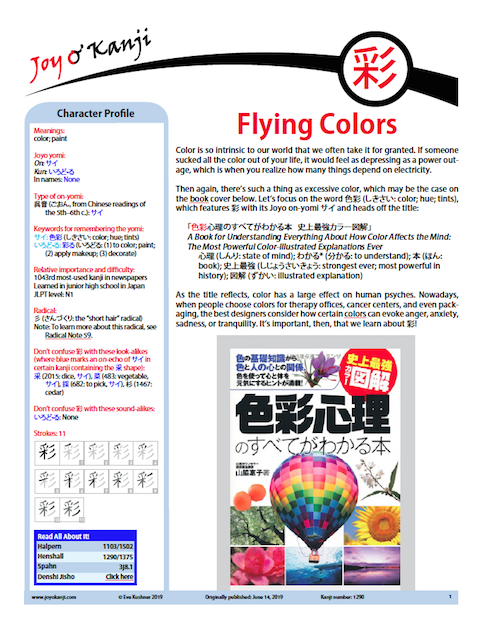 Knowing 彩, you can discuss color in artwork, saying things like "Using watercolors, he made strokes with an almost vertical brush." Aside from art contexts, 彩 helps you talk about brilliance and vividness, saying, for instance, "The newcomer's work is remarkably brilliant," "He seems really depressed and lifeless today," and "He has stood out since his school days."
Using the accompanying game on the Character Home Page, you can practice the vocabulary in the essay after reading it.
Also, Ulrike created the following new-monics (which are free!):
賄 (1941: bribe)
畏 (1955: awe)
茨 (1959: thorn)
韓 (1981: South Korea)
瞭 (2134: clear)