What's New
Now Out: Essay 1180 on 謹 (respect) and 4 New-Monics
Jan 7, 2022
Happy New Year! The 429th essay has posted! Essay 1180 on 謹 (respect; modesty; to be careful) is now available for purchase. Here's a preview: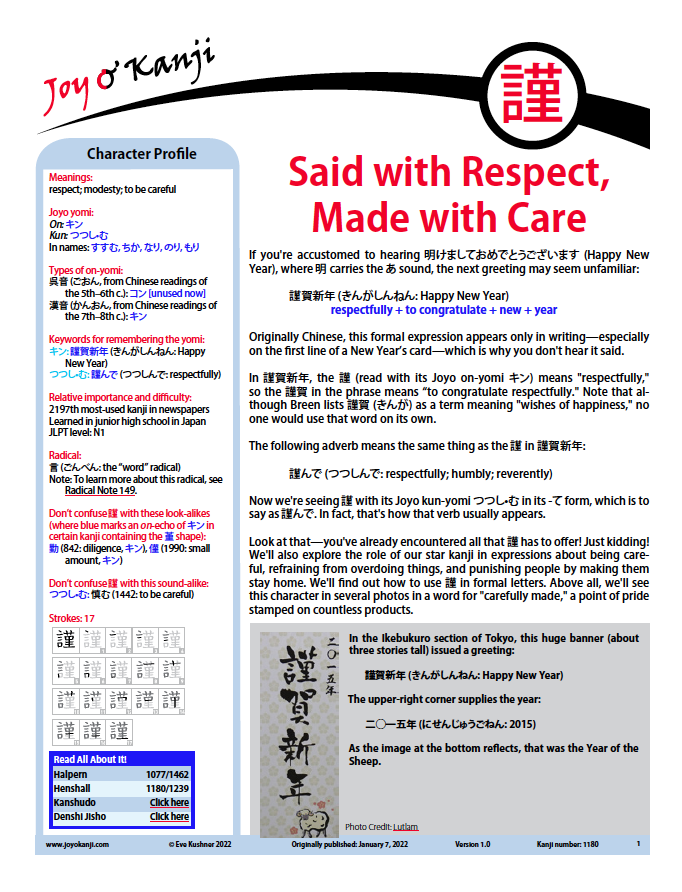 Learn about a New Year's greeting that you'll read but not hear. See what it means when 謹製 is stamped on products in red. Find out how to talk about being conscientious and careful (e.g., with words) or conversely indiscreet (in oh so many ways!). Read about stay-at-home orders that long preceded our current era, as well as respectful terms to include in formal letters.
Also, Ulrike created the following new-monics:
港 (280: port)
使 (287: use; to employ; envoy; tamer)
持 (294: to hold)
実 (296: fruit)
With this set she has finished the third sheet of the mnemonics table (namely, 201–300) and everything before it. Well done!