What's New
Now Out: Essay 1167 on 恐 (fear)
Mar 28, 2014
The 119th essay has posted! Essay 1167 on 恐 (fear; dread; awe; overwhelmed (e.g., with gratitude); probably) is now available for purchase. Here's a preview: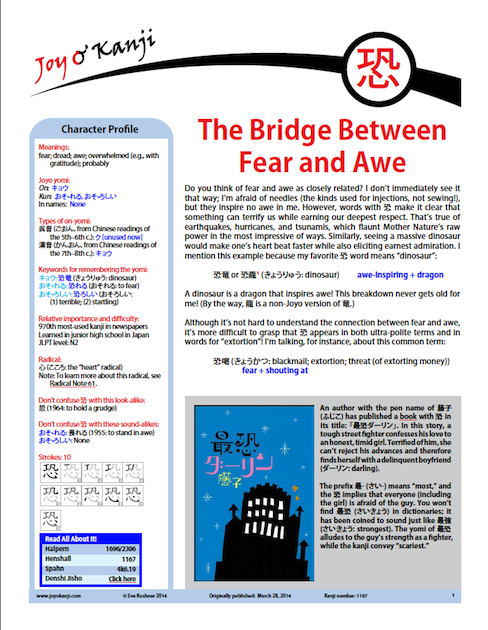 Discover the link between courtesy and extortion. Learn to talk about widespread panic, formidable talent, and possible accidents. Find out how to make requests sound timid, not pushy. See how one term means everything from "Sorry, but can you ..." to "I'm impressed!" to "Thank you"! And learn about the 恐 associated with dinosaurs, moas, おそらく, and かしこ (in women's letters).
Writing about this type of fear prompted me to examine essay 1749 on 怖 (fear; scary; afraid) more deeply, so I made changes to page 7 and posted a revision.
Finally, I'm very excited to announce the unveiling of the Great Wall of Kanji! Check it out to see whether YOU are a (just another) brick in the wall.
To become a brick, register on the site and tell us what your favorite kanji is and why.
Maybe you registered awhile ago. If so, let's be sure your entry looks exactly as you want it to look. Please check the following:
• Is your "favorite kanji" still your favorite? It's OK to change it!
• Have you actually entered it in kanji? It would be MUCH better if it appeared that way. You may not be able to type kanji on your computer. If you would like me to replace your entry with kanji, I'm happy to do so. Just let me know.
• The registration form also included a question about why it's your favorite kanji. Some people misread the question and said why they want to learn Japanese. Please check that your answer is actually about the favorite kanji.
• There's an image associated with your account. The default image is of a female. Many of you are male! Would you like to pick a different avatar from the display? You can also upload your own photo. As you can see, the image associated with your account shows up alongside your comments about your favorite kanji.
Thanks! I'm so happy to have you be a brick in the wall!