What's New
Now Out: Essay 1080 on 嚇 (Threat) and 5 New-Monics
Apr 28, 2017
The 253rd essay has posted! Essay 1080 on 嚇 (threat; intimidation) is now available for purchase. Here's a preview: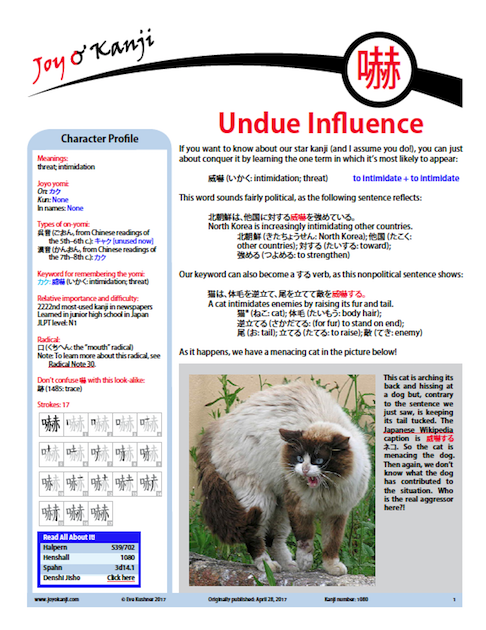 A country poses a threat by expanding its military presence. Cats arch their backs to menace dogs. A type of crab intimidates a sea anemone by lifting it overhead. Parents issue threats to study harder, managers threaten employees with dismissal, someone threatens to reveal an ex's secrets, and you might resort to threats to get money back. Learn to say all of this with 嚇!
Using the accompanying game on the Character Home Page, you can practice the vocabulary in the essay after reading it.
Also, Ulrike has produced a batch of new-monics (which are free!):
技 (644: skill)
支 (691: branch)
枝 (1315: branch)
肢 (1317: limb)
双 (1513: pair)