What's New
Now Out: Essay 1032 on 凹 (concave), New Radical Note, and 6 New-Monics
Apr 17, 2015
The 163rd essay has posted! Essay 1032 on 凹 (concave, hollow; sunken) is now available for purchase. Here's a preview: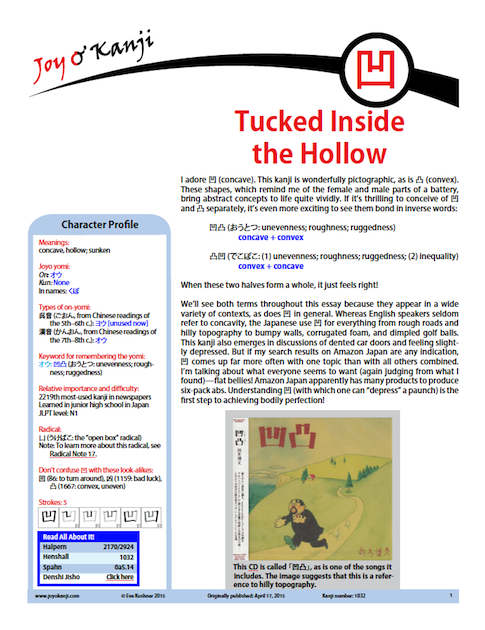 English speakers rarely refer to concavity, but the Japanese use 凹 in an astonishing variety of ways. They need it when writing about everything from dimpled golf balls, potholes, and cupped hands to inconsistent income and the moon's irregular surface. With 凹, one can also mention cognitive and psychological states. And this kanji is crucial in discussions of both topography and flat abs!
Using the accompanying Phrase Maze game on the Character Home Page, you can practice the vocabulary in the essay after reading it.
Radical Note 17 on 凵, the "open box" radical, is now up, too. As always, this resource is free.
Finally, Ulrike is back in action with six new-monics (which are also free!):
認 (952: to acknowledge)
片 (969: one side)
補 (970: to supplement)
優 (984: tenderness)
裏 (992: back)
哀 (998: grief)