What's New
Now Out: Essay 1022 on 謁 (meeting with a high-ranking person) and 5 New-Monics
Sep 6, 2019
The 348th essay has posted! Essay 1022 on 謁 (meeting with a high-ranking person) is now available for purchase. Here's a preview: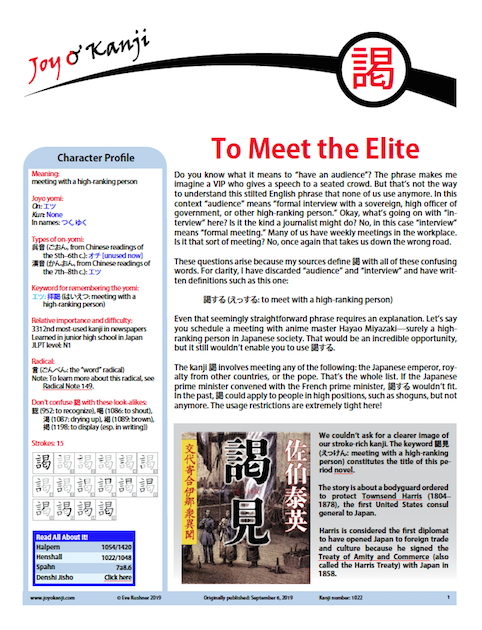 Did you know that in 1582 teenage Japanese envoys went to Europe and met the pope in Rome? And did you know that a 19th-century British painter depicted Queen Victoria's encounter with a mysterious kneeling black king? Find out about all this, plus terms for meeting such VIPs. Also learn who opened Japan to foreign trade (not Perry!) and discover surprising words for "pope."
Using the accompanying game on the Character Home Page, you can practice the vocabulary in the essay after reading it.
Also, Ulrike created the following new-monics (which are free!):
史 (496: history)
省 (516: government department)
煩 (1717: to annoy)
範 (1719: model)
微 (1735: slight)