What's New
Now Out: 5 New-Monics, Plus a Special Offer Continued
Jan 20, 2018
Things are slow on the essay-writing front because I had surgery this week and needed to spend several days resting and recuperating. I apologize for the interruption in essay publication, but I'm happy to report that the operation was very successful and that I've been feeling great most of the time. The surgery took care of a condition that kept leaving me depleted, so when I'm 100 percent again, I'll have that much more energy to pour into JOK! I can't wait!
Meanwhile, I can offer you the following new-monics (which are free!), courtesy of Ulrike:
広 (114: wide)
行 (118: going)
鉱 (674: ore)
拡 (820: to expand)
桁 (2000: digit)
The last kanji in that list is the subject of the next essay that will post!
Three weeks of January have slipped by, but there's still time to take advantage of this special deal: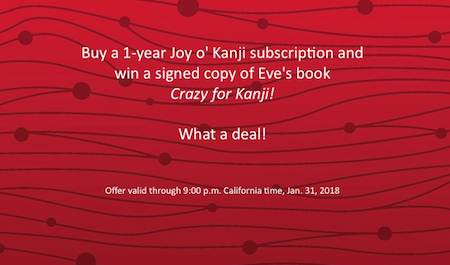 You can find out about the book on this part of the site, and you can subscribe from this page. Why haven't you done so already?!