What's New
Essay 2107 on 蔑 (contempt) Is Now Out
Nov 14, 2014
The 145th essay has posted! Essay 2107 on 蔑 (contempt, disdain, scorning; despising; ignoring) is now available for purchase. Here's a preview: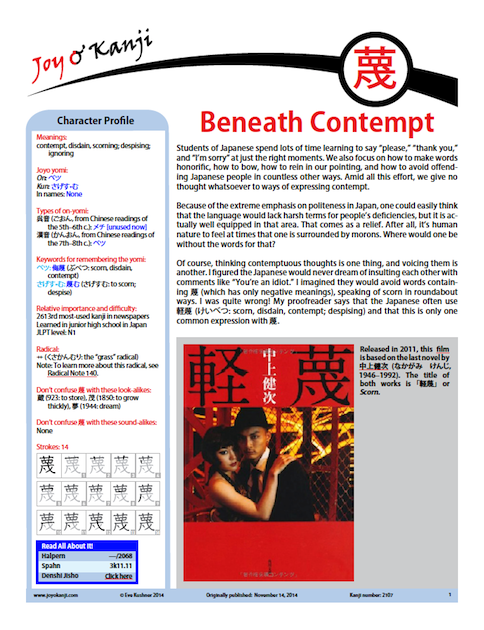 After reading this essay, you'll know how to do all of this: talk about looking down on others, express contempt, accuse men of sexist thinking, and say that you despise someone. You'll also understand why a famous thinker thought Japan should bid good riddance to the rest of Asia, why the nobles viewed samurai as savages, and how a word for "scorn" relates to a carpentry technique.
Using the accompanying Phrase Maze game on the Character Home Page, you can practice the vocabulary in the essay after reading it.
In addition, there are lots of new-monics:
丁 (346: ward)
末 (587: end)
可 (816: to be able to)
奇 (1123: strange)
騎 (1133: riding a horse)
抹 (1836: to rub away)
俺 (1970: I (for men))
遡 (2051: going upstream)