What's New
Essay 1968 on 岡 (hill; higher place; outside; beside) Is Up
Aug 23, 2013
The 92nd essay has posted! Essay 1968 on 岡 (hill; higher place; outside; beside) is now up and available for purchase. Here's a preview: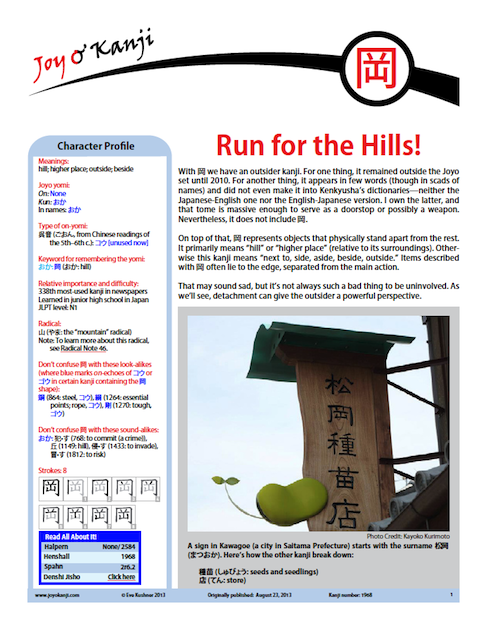 Find out what role 岡 (primarily "hill") could possibly play in a bathhouse, on an inkstone, in a wooden carrying box, in unrequited love, and in a 2nd-class red-light district. The essay provides connective thread between uses of 岡 that otherwise seem completely random. See how 岡 relates to 丘, another kanji for "hill." And enjoy a bevy of photos with 岡 in the names of people and places.
Also, Radical Note 115 on the "grain" radical 禾 is now available in the Renshu Resources section.
Finally, there's a new version of essay 1041 on 乙 (second (in order or quality); strange; stylish). It now omits 3 dead links to a discontinued Flickr account. Details are at the Character Home Page.