What's New
Essay 1743 on 浜 (beach) Is Up
Jul 19, 2013
The 87th essay has posted! Essay 1743 on 浜 (beach, seashore; Yokohama) is now up and available for purchase. Here's a preview: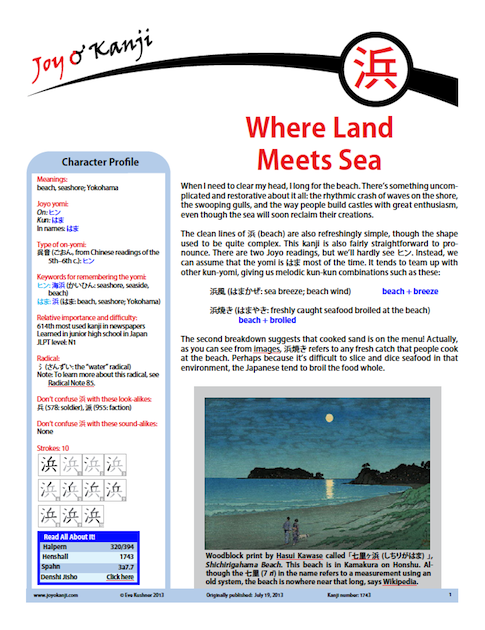 Why did the Japanese once cling to poles in the sea in hopes of curing disease? Where can you ride camels in Japan or nest in a hole on a hot beach in order to heal? Find out about all this, plus beach rituals, beach-inspired literature, and a sandbar-inspired pattern that has influenced designs of everything from tables to cakes. Also enjoy photos of the prettiest beaches in Japan.
This essay introduces a new feature. In the "Read All About It!" section on page 1, you'll now find two Halpern numbers listed ("320/394" in this case). The first number refers to the 1999 edition of Kanji Learner's Dictionary, whereas the second reflects the numbering system in the newly revised and expanded edition.
There has also been a change to the Essays page. For a short time, a retina-burning red signaled that you had already purchased a particular essay. This color has become french vanilla, which should be easier on your eyes but may make you crave ice cream!