What's New
Essay 1731 on 碑 (inscribed stone monument) Is Up
Jul 20, 2012
Essay 1731 on 碑 (inscribed stone monument) is now up and available for purchase! Here's a preview: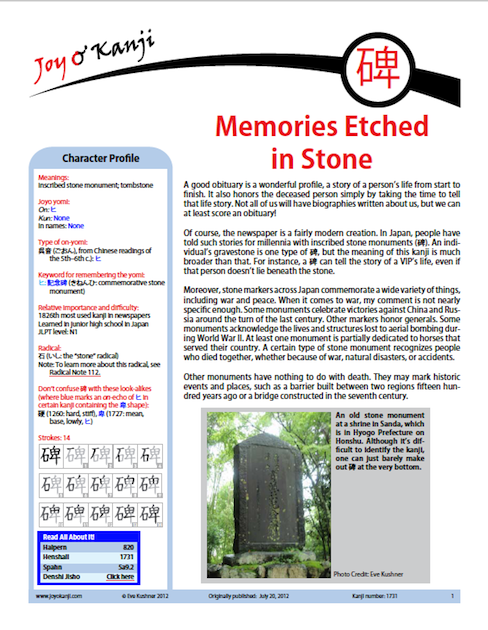 Japan abounds in stone monuments of all types. They commemorate individual lives, wars, peace, loyal service, and "aha!" moments that came to poets. By considering the spectrum of stone markers in Japan, we can understand what people have cared about and have sought to preserve. Don't miss this photo-rich essay, which looks at Japan from a very different angle.
A few more bits of news. In Renshu Resources, you can now find Radical Note 67 on 文 (the "literature" radical).
On top of that, I've posted a revision of essay 1607 on 塚. The work on essay 1731 led me to discover a small error in the page 5 sidebar, which I've now corrected. If you've ever bought essay 1607, you can help yourself to a revised copy.
Finally, the site has a complete bio for one of the editors, the very talented and kind Esho Shimazu.