What's New
Essay 1726 on 披 (to open; reveal; display; introduce) Is Up
Sep 13, 2013
The 95th essay has posted! Essay 1726 on 披 (to open; reveal; display; introduce) is now up and available for purchase. Here's a preview: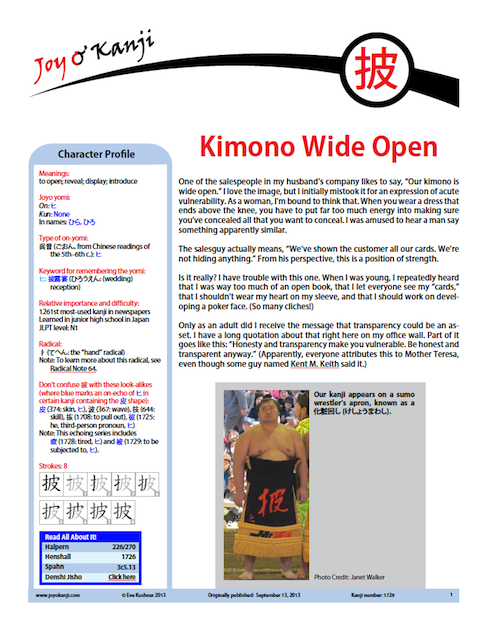 With 披, it's as if trumpets have sounded. This kanji enables you to unveil plans, make announcements, debut songs, and show what you're capable of doing. Connected with introductions, displays, and performances, 披 pops up in contexts ranging from weddings to kabuki and Noh to sumo. But this kanji also has a sensitive side; with 披 you can pour out your innermost feelings.
I've also reissued three essays after making very small revisions:
Essay 1564 on 胆 (gallbladder; liver; innards; courage)
Essay 1571 on 壇 (platform; podium; altar; circles)
Essay 1968 on 岡 (hill; higher place; outside; beside)
You can see the revision notes at each link to find out what changed.