What's New
Essay 1650 on 陶 (pottery; training; contented) Is Up
Aug 24, 2012
Essay 1650 on 陶 (pottery; training; contented) is now up and available for purchase. Here's a preview: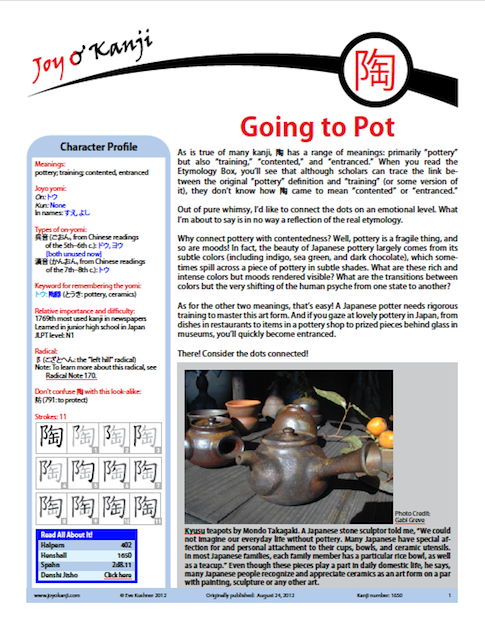 While enjoying gorgeous photos of pottery that only Japanese clay and firing techniques can produce, you'll gain a sense of what pottery means to the Japanese, from its use in daily life to its Zen connections. You'll also learn how to say not only "pottery" and "potter" in Japanese but also "He made me who I am today" and "I'm drunk on music."
I've also reissued four essays after several additions:
• Essay 1069 on 涯 (outer limits; horizon; edge; shore), which now includes a picture of the 涯 kanji for the first time!
• Essay 1128 on 鬼 (devil), which has two new pictures, one telling the great children's story of The Red Devil Who Cried.
• Essay 1973 on 瓦 (roof tile), which has two new pictures. One caption describes types of sweets in the shape of roof tiles!
• Essay 1985 on 亀 (turtle), which has two new pictures of this kanji in both its current and older forms.