What's New
Essay 1421 on 壌 (arable soil) Is Out, as Is Oct. Newsletter, Announcing Launch of Kanji Kaimono
Nov 1, 2014
The 143rd essay has posted! Essay 1421 on 壌 (arable soil, earth) is now available for purchase. Here's a preview: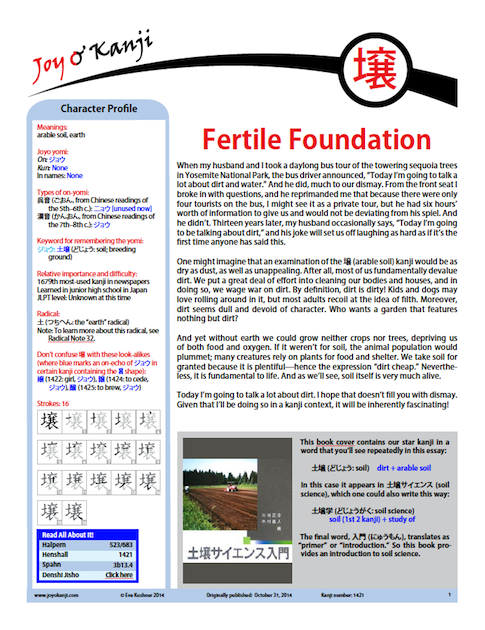 Japan is rich in agriculture now, but it once faced severe food shortages. Find out how people ingeniously transformed volcanic soil into arable farmland. Learn to talk about soil figuratively (as fertile ground for innovations) or literally, saying things like "Plants take in water from the soil" (Hint: There's a way to say "water" other than 水!) Also see what makes hydrangea flowers blue or red!
Using the accompanying Phrase Maze game on the Character Home Page, you can practice the vocabulary in the essay after reading it.
Furthermore, the October newsletter is out. Among other things, it announces the launch of Kanji Kaimono! You can find a link to this auxiliary site in the top menu. Kanji Kaimono is an online store in which a collection of far-flung vendors bring you a wide variety of items with kanji on their surfaces. We're thrilled to have this up and running!