What's New
Essay 1327 on 滋 (nourishing) Is Now Out
Aug 22, 2014
The 135th essay has posted! Essay 1327 on 滋 (nourishing, nutritious; delicious) is now available for purchase. Here's a preview: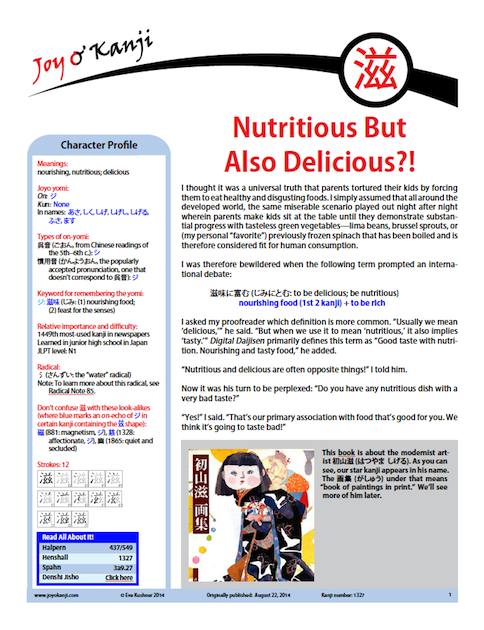 Do you associate "nutritious" with "delicious"? The answer may depend on culture! Find out how to talk about both things with the same term, which can also mean "feast for the senses." See how Japanese and European ideas about medicinal cooking have intertwined, discover how Japanese superstars boost their energy, and learn how to help your ears by tending to your kidneys!
Using the accompanying Phrase Maze game on the Character Home Page, you can practice the vocabulary in the essay after reading it.
There are plenty of new mnemonics (new-mnonics!):
車 (31: car)
女 (35: woman)
米 (201: rice)
取 (301: to take)
有 (401: to possess)
氏 (495: family name)
失 (501: to lose)
夫 (573: husband)
輪 (610: wheel)
冊 (874: counter for books)
婚 (1278: marriage