What's New
Essay 1252 on 洪 (flood) Is Now Out, Leaving 2000 to Go!
Aug 29, 2014
The 136th essay has posted! Essay 1252 on 洪 (flood, deluge; vast) is now available for purchase. There are 2,136 Joyo kanji, so that means I have exactly 2,000 essays to go! Woo-hoo!
Here's a preview of essay 1252: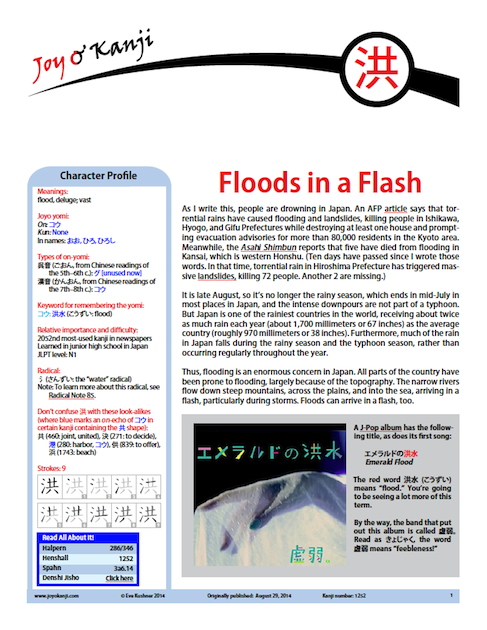 Learn how floods pose a serious threat in ultra-rainy Japan, which now has the world's largest underground flood-prevention facility. Find out how to talk about real and figurative floods. Hear Okinawan "flood myths," and see what the Japanese say about Noah's flood. Examine 洪 in the names of a huge bell, famous ship, well-known doctor, star athlete, and two countries.
Using the accompanying Phrase Maze game on the Character Home Page, you can practice the vocabulary in the essay after reading it. There are five other new games up, as well:
essay 1031 on 汚 (dirty; to defile, dishonor; corruption; contamination)
essay 1047 on 菓 (confection; cake; sweets)
essay 1052 on 靴 (shoes, footwear)
essay 1065 on 塊 (lump, mass, clod; bundle, clump, cluster)
essay 1069 on 涯 (outer limits; horizon; edge; shore)
A revision of essay 1069 has also appeared with a slight change in formatting on one page.
In addition, plenty of new-mnemonics have posted:
食 (146: to eat)
身 (323: body)
包 (583: to wrap)
良 (598: good)
謝 (701: to apologize)
射 (882: to shoot)
傷 (901: to wound)
傾 (1201: to lean)
滋 (1327: nourishing)
杯 (1685: saké cup)
抱 (1794: to embrace)
娘 (1846: daughter)