What's New
Essay 1041 on 乙 (second (in order or quality) Is Up
Aug 31, 2012
Essay 1041 on 乙 (second (in order or quality) is now up and available for purchase. It's the 50th essay I've posted! Here's a preview: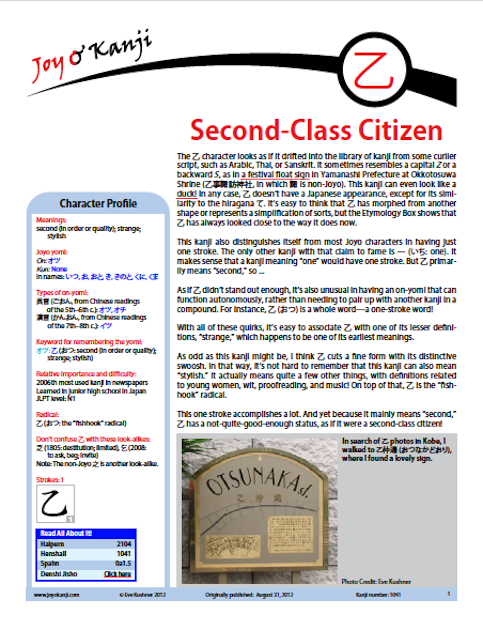 A kanji with a dizzying array of meanings, 乙 enables you to sequence items or rank them by quality. It also has definitions related to music, inventive tastes, young women, wit, astrology, and proofreading! This kanji cuts a fine form with its distinctive one-stroke swoosh, which is apt, as it can mean "stylish." On top of that, the "fishhook" radical 乙 appears in several Joyo kanji.
I've also reissued two essays after several additions:
• Essay 1776 on 柄 (character, nature). See page 10 for a great new photo!
• Essay 1899 on 竜 (dragon). This has 5 (!) new photos of dragons and of signs with the dragon kanji. See pages 12, 18, 19, and 20.
Moreover, I greatly revised "Sticky Stroke Counts."
Finally, the August newsletter is out. If you win the fun new contest (about cats!), you'll receive a kanji T-shirt from Kanji Kaz, so be sure to check it out!