What's New
Now Out: Essay 1528 on 燥 (to Dry Up) and 5 New-Monics
Apr 15, 2016
The 206th essay has posted! Essay 1528 on 燥 (to dry up; have a good time) is now available for purchase. Here's a preview: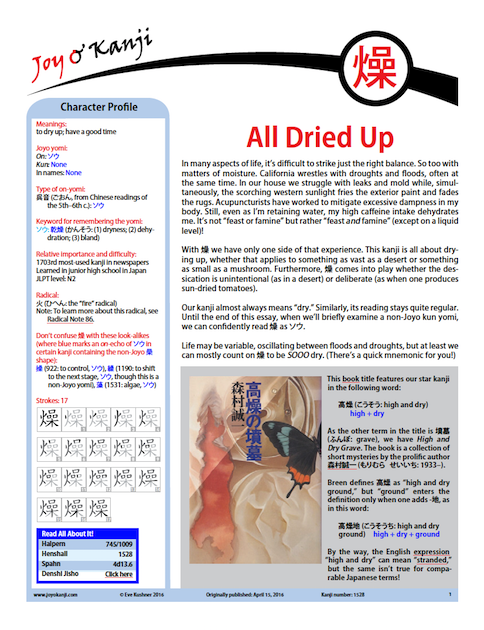 By understanding 燥, you can talk about everything from dry skin and dehydration to dried fruit and dryers. You'll be able to say, "We preserve shiitake mushrooms by drying them," and you'll know terms for "instant miso," "sun-dried mackerel," and "powdered milk," as well as "arid land" and "dry season." With 燥 you can even have a good time, as that's a minor meaning!
Using the accompanying Phrase Maze game on the Character Home Page, you can practice the vocabulary in the essay after reading it.
Also, Ulrike has produced a batch of new-monics (which are free!):
早 (50: early)
草 (162: grass)
章 (318: written passage)
障 (902: barrier)
彰 (1410: clear)
Finally, if you want to see gorgeous pictures of Japan and tempting shots of Japanese food, be sure to check out our most recent Pinterest boards!