JOK Notebook
Internal Contradictions
Aug 19, 2017
It's been a rough week in many parts of the world, and joy often feels beside the point. And yet I know it doesn't accomplish much to dwell in the dark side, so I have to double down on my efforts to feel wonderment, curiosity, and glee. If anything can get me there, kanji can. Without further ado, I bring you a smattering of fun kanji tidbits that I've collected over the weeks.
Internal Contradictions
Check out the meanings of this term:
在り方 (ありかた: (1) the way something ought to be; (2) the (current) state of things; how things are) existence + way of doing
Aren't those two meanings in complete contradiction with each other?! Here's what I mean:
The way something ought to be: I can read all kanji effortlessly.
How things currently are: A bit different from that
A 内 Quiz
Here's a cool compound I came across in a sample sentence in essay 1079 on 獲 (to catch game or fish; get):
戦車 (せんしゃ: tank) war + vehicle
There's nothing funny about wars or tanks, but it's such a tidy and cute compound, looking like "war car." That's some car! Of course, 車 can represent many kinds of vehicles.
Anyway, now that we're in a "what could it mean?" frame of mind, let's do a Quick Quiz. Match each compound and yomi with a definition:
| | |
| --- | --- |
| 1. 内向 (ないこう) | a. inside; interior |
| 2. 内面 (ないめん) | b. the face one presents at home |
| 3. 内面 (うちづら) | c. introvert |
I'll block the answers with a preview of the newest essay, which teaches you how to bribe people in Japanese (just kidding!):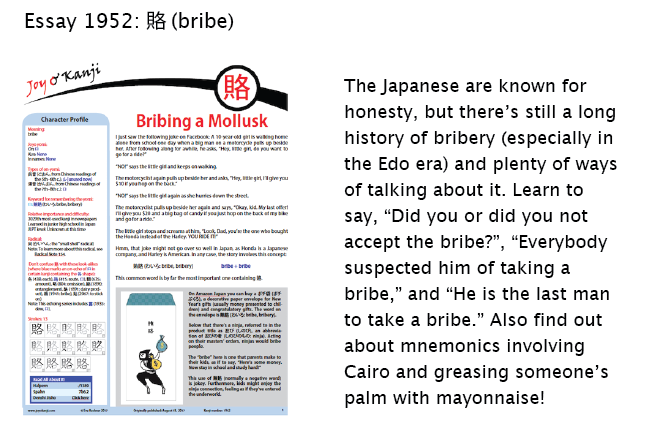 Okay, here we go:
1.c. 内向 (ないこう: introvert) inward + turning
2.a. 内面 (ないめん: inside; interior) inside + side
3.b. 内面 (うちづら: the face one presents at home) inside + face
Look at the shift from a to b. Changing from an on-yomi duo to a kun-kun compound makes for completely different definitions and even a change in the breakdown.
When read as ないめん, 内面 could refer to the inside of a building or could be more abstract (e.g., the inside of someone's mind).
As for うちづら, the "face" in that sense implies "demeanor."
Counterintuitive
We have time for just a little more fun, and then it's back to being grim and despairing! Consider this word:
直感的 (ちょっかんてき: intuitive) direct + feelings + adjective suffix
I love any talk about intuition and feelings, so I automatically like this word, but I'm also befuddled. Isn't intuition indirect, rather than direct? I mean, if I tell you that I'm sad, and you murmur insincere and rote words of comfort (sorry, I'm giving you a hard time!), the exchange is pretty direct. I have left you nothing to guess at. If instead I shred my napkin as we chat over hot tea, but I don't say what's on my mind, and if you guess that I'm frustrated and anxious, that would be intuitive and indirect.
And yet it's as if the intuitive person has a direct connection to the truth of the situation. That's what 直 conveys here. Incidentally, Halpern says that the prefix 直- can mean "direct, personal."
Here's another surprise. Whereas 直感的 is common, the antonym 反直感的 (はんちょっかんてき: counterintuitive) is uncommon. That is … counterintuitive! And it's all the more astonishing when you realize that the words differ only by one kanji, 反.
Incidentally, next week's essay on 酌 will present another great term involving intuition:
意を酌む (いをくむ to enter into a person's feelings; guess what somebody feels, using one's intuition) feelings + to take someone's feelings into account
Even though I've written the essay, I can't help feeling shocked to see 酌 in relation to emotional states. After all, this kanji primarily means "to serve or drink alcohol"! It's quite a leap from there to deep empathy! If anything, people become more selfish as they drink. But the second definition of 酌 is "consideration for others," and essay 1343 explains how the two themes connect.
I'll be back next week to serve up that essay!
❖❖❖
Did you like this post? Express your love by supporting Joy o' Kanji on Patreon: