What's New
Essay 1823 on 没 (sinking) Is Now Up, and the May Newsletter Is Out
May 31, 2013
Essay 1823 on 没 (sinking; immersion; disappearing; dying; lack) is now up and available for purchase. Here's a preview: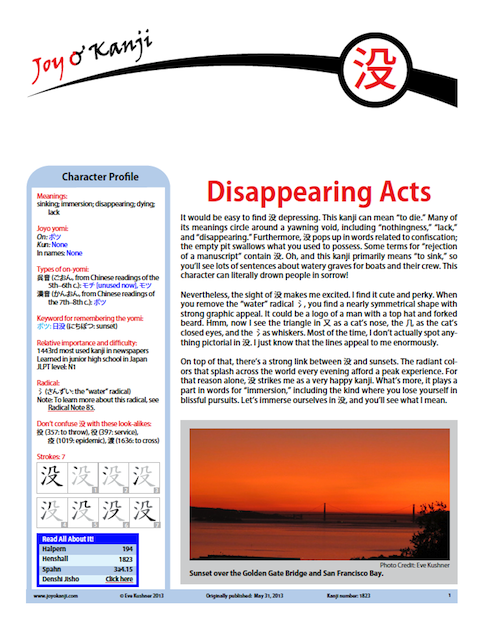 As the abundant sample sentences show, 没 enables you to talk about passing out drunk, dropping a phone in the toilet, having things confiscated or rejected, lacking a personality, and going down with a sinking ship. Nevertheless, 没 strikes me as a happy kanji! It's strongly associated with sunsets, and it appears in words for "immersion" (e.g., losing oneself in blissful pursuits).
Also, a revision to essay 1608 on 漬 (pickle; to immerse, soak) is out with minor changes to two sample sentences.
Finally, the May newsletter is out, featuring beautiful photos, a new contest, results of the last contest, and a roundup of everything that happened this past month.