What's New
Essay on 摘 (to pick, pluck; extract; trim; gather) Is Now Up!
Jul 27, 2012
Essay 1625 on 摘 (to pick, pluck; extract; trim; gather) is now up and available for purchase! Here's a preview: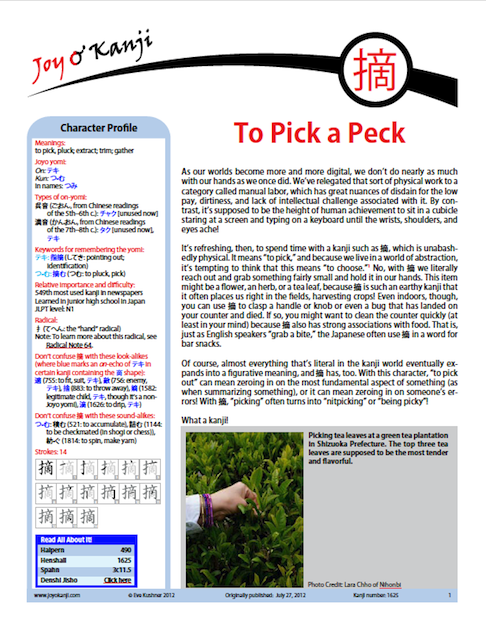 Do you know what it means to be pinched by a fox?! And do you know the Japanese for "bar snack" (which is also the term for "knob, handle")? How would you talk about picking strawberries? Learning about 摘 will give you access to this vocabulary. Using 摘, you can also zero in on the fundamental aspects of something—or on people's errors! With 摘, "picking" often turns into "nitpicking"!
A few more bits of news. In Renshu Resources, you can now find Radical Note 64 on 手 (the "hand" radical).
Also, in Who We Are, you'll now find the bio for a second graphic designer, Endang Pergiwa Mahayati, who created the PDF for essay 1625. Welcome aboard!