Thank you for visiting this Character Home Page. Below you'll find a synopsis of the essay. If you wish to read the full text, the PDF of the essay is available for purchase to the right.
Synopsis
In parts of Japan (e.g., in Nara and Miyajima), deer are quite visible—so much so that oblivious people can't see the mountains for the deer, figuratively speaking. Because it's half of 馬鹿 (fool), this new Joyo kanji enables us to ridicule idiots (who have a contagious and incurable condition, by the way). As both a radical and an autonomous kanji, 鹿 appears in the names of several animals.
Revision history:
Dec. 9, 2016:
p. 1: Deleted this Character Profile note under the look-alikes: "When it comes to 鹿, ロク is a rarely used, non-Joyo on-yomi." It IS a Joyo yomi, though rarely used.
pp. 1 and 10: Removed broken links.
Nov. 21, 2014: p. 12 sidebar: Fixed a typo.
June 22, 2012: Originally published.
Want to Own This Kanji?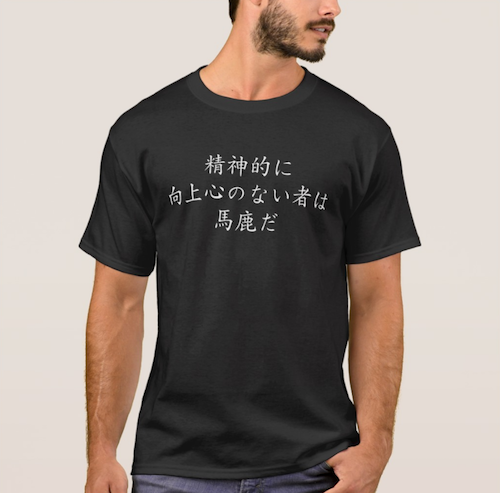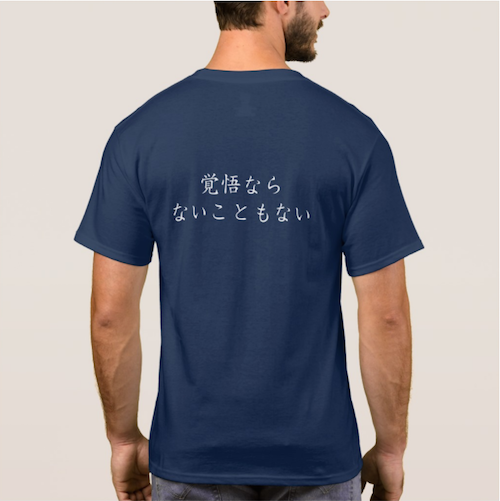 These shirts are available on Zazzle! As far as I can tell, the blue shirt comes with writing on both front and back, whereas the black shirt has it only on the front. The phrases come from Soseki's famous novel Kokoro, and the one on the front includes 馬鹿 (ばか: idiot). Both phrases are only partial quotations. Here's what Soseki actually wrote in each case:
Front:
精神的に向上心がないものは馬鹿だといって、何だか私をさも軽薄もののようにやり込めるのです。
Saying that anyone who had no spiritual aspirations was an idiot, he began to attack me for my frivolity.
The partial quotation:
精神的に向上心がないものは馬鹿だ
Anyone who has no spiritual aspirations is an idiot
Back:
すると彼は卒然「覚悟?」と聞きました。そうして私がまだ何とも答えない先に「覚悟、―― 覚悟ならない事もない」と付け加えました。
Then he said suddenly: "Am I prepared ...?" Before I could say anything, he added: "Why not? I can will myself..."
The partial quotation:
覚悟ならないこともない
Why (am I) not prepared? I can will myself.