隅
corner; inconspicuous place
Kanji 1187
Thank you for visiting this Character Home Page. Below you'll find a synopsis of the essay. If you wish to read the full text, the PDF of the essay is available for purchase to the right.
Synopsis
Find out how the Japanese use 隅 not only literally but also figuratively, as when they talk about finding a refuge, feeling isolated, knowing something A to Z, nitpicking, and "lighting up the corner." Learn about a corner of Japan associated with an important strait, poetry, and scientific discoveries. Also find out about a fireworks festival in Tokyo. Enjoy several gorgeous book covers featuring 隅!
Revision History:
February 24, 2017: p. 10: Revised the translation of the 天守閣の石垣は sentence and defined 銘石 as "engraved stone," not "carved stone."
February 20, 2015: Originally published.
Want to Own This Kanji?
You can buy U.S. postage with kanji on it! Who'd have guessed?! Even better, this stamp bears our star kanji: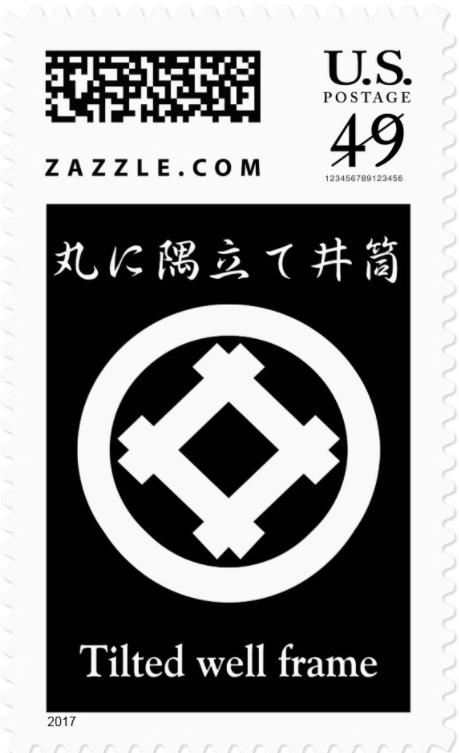 The symbol is a family crest. In 丸に隅立て井筒, the 隅立て should actually be written as 角立て. The phrase means that the circle (丸) contains a 井-like symbol that "stands" (立) on one of its "corners" (隅 or 角). See essay 1470 on 井 (well; town) to know more about well frames.
Whenever you travel from Joy o' Kanji to Zazzle and buy something there, you'll be supporting my project. I have an affiliate relationship with Zazzle, so Joy o' Kanji receives a small percentage of the proceeds of such sales. If you like what I'm doing and you love kanji, I invite you to Zazzle up!