Thank you for visiting this Character Home Page. Below you'll find a synopsis of the essay. If you wish to read the full text, the PDF of the essay is available for purchase to the right.
Synopsis
Why have the Japanese worshipped well water, shouted down wells, and jokingly called the Edo era the "Ido" era? How do people use the shape of a well in everything from kimono cloth to business slang? How does 井 figure into economic and political discussions? Find out all of this and much more, including the role of wells in folktales, proverbs, and Haruki Murakami's fiction.
Revision History:
Nov. 20, 2018: p. 7: Significantly revised the first photo caption.
Apr. 11, 2013: Originally published.
Want to Own This Kanji?
You can buy U.S. postage with kanji on it! Who'd have guessed?! Even better, this stamp bears our star kanji: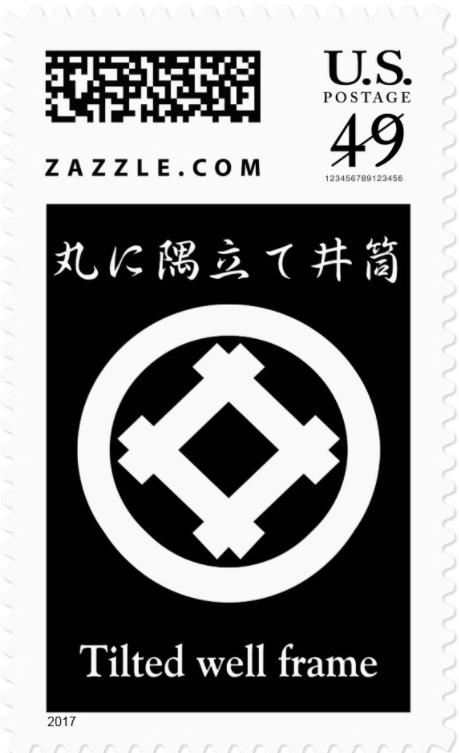 The symbol is a family crest. In 丸に隅立て井筒, the 隅立て should actually be written as 角立て. The phrase means that the circle (丸) contains a 井-like symbol that "stands" (立) on one of its "corners" (隅 or 角).
Whenever you travel from Joy o' Kanji to Zazzle and buy something there, you'll be supporting my project. I have an affiliate relationship with Zazzle, so Joy o' Kanji receives a small percentage of the proceeds of such sales. If you like what I'm doing and you love kanji, I invite you to Zazzle up!