What's New
Now Out: Essay 1208 on 鯨 (whale) and 4 New-Monics
Nov 15, 2019
The 356th essay has posted! Essay 1208 on 鯨 (whale) is now available for purchase. Here's a preview: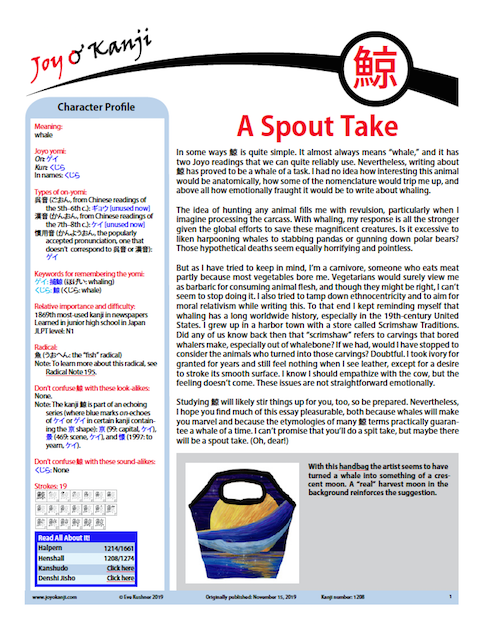 See how whales relate to cows, hippopotami, and boars. Learn anatomical terms from blubber to the blowhole. Discover why sperm whales are "incense whales" in Japanese, see what "the scent of dragon slobber" represents, and learn why 鬚 (beard) appears in important whale words. Find out about Osaka's whalebone bridge, and learn how the Japanese talk about the whaling controversy.
Master the material in this essay by playing games from our partner Kanshudo.
Also, Ulrike created the following new-monics (which are free!):
糾 (1151: to put screws on someone)
訂 (1617: revision)
添 (1631: to add)
途 (1635: way)