What's New
Essay 1715 on 販 (marketing) Is Up, as Is Radical Note 154
Nov 16, 2012
Essay 1715 on 販 (marketing; selling) is now up and available for purchase. Here's a preview: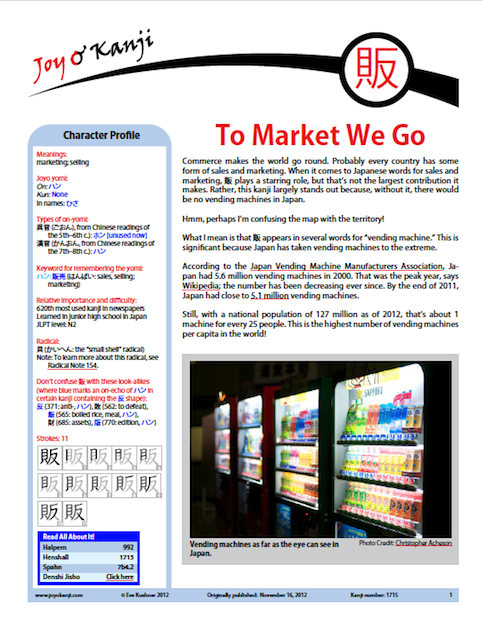 Find out the staggering range of items that Japanese vending machines sell (including eggs!), as well as several terms for such machines. Learn to say that a type of car is on the market or will soon be (which requires a different word!), retailing for a certain amount, though a sales promotion will bring a discount. Scads of photos reinforce the most important 販 terms.
Radical Note 154 on 貝, the "small shell" radical, is also up, supplementing the new essay.
Finally, I've posted a revision to essay 1776 on 柄 after deciding that, in the future, I won't list voiced kun-yomi in the sound-alikes section of the Character Profile. I've explained this choice in a new paragraph in Guide to the PDFs, section 1.h.