What's New
Essay 1084 on 潟 (lagoon) Is Now Out
Aug 15, 2014
The 134th essay has posted! Essay 1084 on 潟 (lagoon; tideland) is now available for purchase. Here's a preview: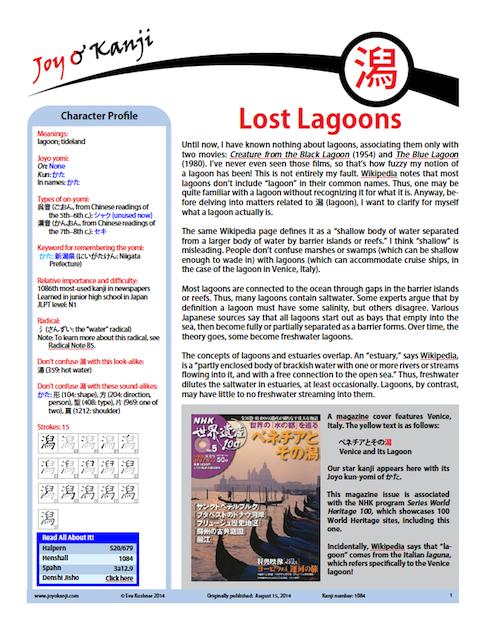 Find out about an annual event with the unstated goal of coating all participants in mud! See why Japan's lagoons are vanishing while its tidelands are increasing. Learn about how the most famous Japanese "lagoon" is not a lagoon. Read about lagoon-based obsessions, famous writings about lagoons, and hidden aspects of Niigata Prefecture (e.g., that it is snowier than Hokkaido!).
Using the accompanying Phrase Maze game on the Character Home Page, you can practice the vocabulary in the essay after reading it.
I've once again posted a revised version of essay 1255 on 香 (fragrance, sweet smell; incense; perfume)! Details are on the Character Home Page.
A game is now available for essay 1652 on 搭 (boarding; loading (vehicle)).
And there are plenty of new mnemonics (new-mnonics!):
字 (23: character)
里 (219: village)
童 (363: juvenile)
敬 (846: respect)
寸 (909: to measure)
尊 (927: revered)
汚 (1031: dirty)
乙 (1041: second (in order or quality))
甲 (1243: first-class)
遵 (1380: to obey)
岬 (1840: cape)
愉 (1861: pleasant)
憧 (2033: to yearn)